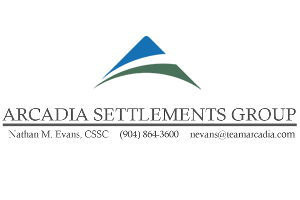 Nathan M. Evans, CSSC
Arcadia Settlements Group
Structured Settlements
nevans@teamarcadia.com
904-864-3600
Arcadia and Nathan Evans partner with attorneys throughout Florida to resolve workers' compensation claims and provide long-term financial security to injured workers through structured settlements, trusts, and other settlement planning services.  He frequently consults on Medicare, SSDI, public benefits, and future medical and income considerations with clients. Nathan is a Certified Structured Settlement Consultant and member of NSSTAs Legislation committee.
Arcadia Settlements Group has a rich history as the first structured settlements firm in the world. Arcadia has helped settle over 500,000 claims providing benefits of more than $150 billion to people made vulnerable by injury or the death of a loved one.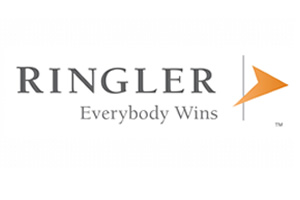 Contact: Paul Herman
Tele: (561)236-8851
We protect your clients from continued collection activity and harassment from medical providers, creditors and debt collectors for bills related to their accident-related medical treatment they don't owe. You, as a claimant attorney can submit the bill to the E/C to pay but no guarantee that the creditor will submit it properly. We kill all collection and credit reporting issues, period! We handle all cases with no additional costs to you or the claimant or use of extensive resources to you and limited work or assistance on you or your firm's part. We have no involvement, impact nor interest in participating or handling any aspect of the underlying Workers' Comp claim.  We protect your clients from inaccurate or erroneous credit reporting and can remove collection accounts related to accounts in violation of FS §440.13. We can help effectively base add value to your services as we provide the most complete handling of FS §440.13 cases, provide peace of mind to your clients, and in most cases provide extra money to them for enforcement of violations. We are experienced in all aspects of FS §440.13 violations for medical bills sent directly to claimants from all types of medical providers, and we have over 85 years of combined experience in Workers' Comp and 50 years in Consumer Debt and Credit Law.

Contact: Dr. Arpit Patel
Tele: (813)701-5804
Fax: (813)291-7615
Other locations include: Wauchula, Lakeland, Davenport, Winter Haven Ellenton, Wesley Chapel, Tampa
Dr. Arpit Patel started Excel Pain and Spine in order to create a multidisciplinary, patient-centric practice to treat a wide range of acute and chronic pain syndromes. Dr. Patel is double board-certified in Interventional Pain Medicine and Physical Medicine and Rehabilitation (PM&R). He is an expert in all aspects of pain medicine and utilizes evidence-based, minimally invasive treatments to help patients manage their pain.
Dr. Patel earned top honors and graduated from Virginia College of Osteopathic Medicine in Blacksburg, Virginia. He went on to complete residency training in Physical Medicine and Rehabilitation at NUMC, where he was selected as Chief Resident. He completed his training at the ACGME accredited Interventional Pain Medicine Fellowship at the University of South Florida Morsani School of Medicine and was voted by the faculty as "Fellow of the Year."


Fax: (407)841-2779
Toll Free: (855)MYDEPOS
Email: scheduling@milestonereporting.com
Milestone Reporting Company is a full service court reporting firm that can provide court reporters and legal videographers for all of your deposition needs. Milestone is the premier provider court reporting services statewide. Whether you need a realtime stenographer or a digital court reporter, we will provide a unique solution for your deposition, transcription, and legal video deposition needs. Milestone also offers videographer services.